Valley Hi Kia: History
Please call (888)868-7405 with any questions or email our internet staff by clicking
here
.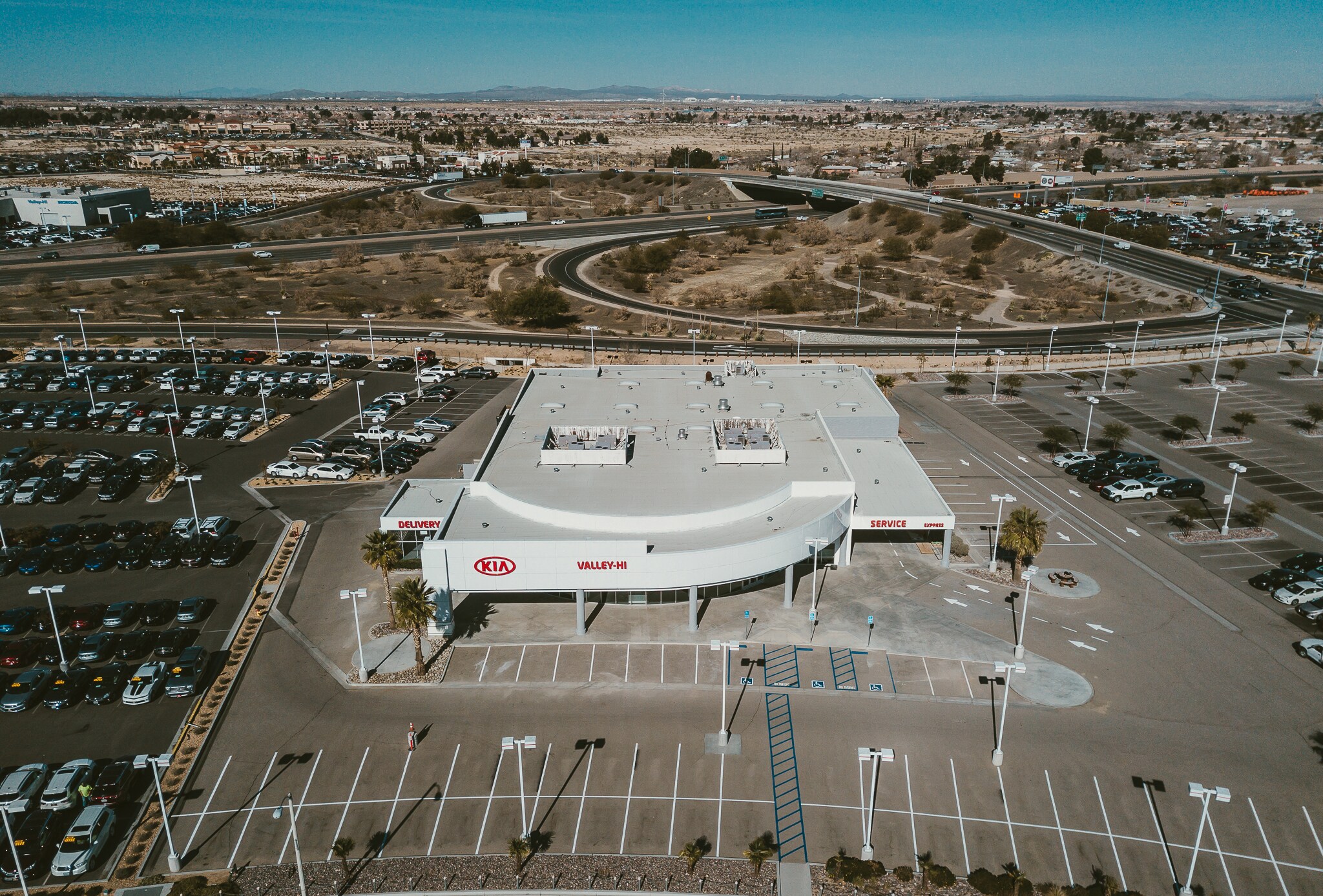 Richard Browning, founder of the Browning Automotive Group, began his automotive career in 1934 when he joined the used car department of C. Stanlee Martin Oldsmobile in Long Beach, CA. Between 1934 and 1960, he worked in all departments, eventually becoming part owner and General Manager. In early 1960, he purchased the entire dealership and re-named it Dick Browning Oldsmobile.

The business continued to operate successfully as an exclusive Oldsmobile dealership in the Long Beach from 1960 until 1980. With space limitations from business increases and with an aging facility, the decision was made to relocate to an entirely new facility in the then new Cerritos Auto Square in late 1980. Upon relocation to Cerritos, the business name became Browning Oldsmobile-Isuzu.

The Cerritos Auto Square became one of the premier auto sales locations in the United States shortly after opening in 1980 and Browning Oldsmobile-Isuzu enjoyed great success. The opportunity to represent Dodge in Cerritos resulted in our opening of Cerritos Dodge in 1984. The Group was also privileged to be one the first Acura dealers in the United States with the opening of Cerritos Acura in 1986. Although the Oldsmobile-Isuzu franchises have been replaced by Mazda, Browning Mazda, Cerritos Acura and Cerritos Dodge continue to operate successfully in the Cerritos Auto Square.

With the death of the founder Richard Browning in 1991, ownership of the Browning Automotive Group passed on to his son, Kent Browning, who has been with the Browning Automotive Group since 1975. Under Kent Browning's direction, the business has expanded to Victorville, CA with the purchase of Valley-Hi Toyota and Valley-Hi Honda in 2001 along with the purchase of Valley-Hi Nissan in 2004, the addition of Valley-Hi Kia in 2010. In 2012 we expanded to Norco, CA with Browning Dodge Chrysler Jeep Ram and now the addition of the All New Browning Mazda Of Alhambra in Alhambra, CA. 

The Browning Automotive Group of today consists of 14 franchises in 9 locations employing over 700 professionals. The keys to our success has been and will continue to be representing quality products in state of the art facilities while treating ALL customers and employees with courtesy, honesty and respect.
We have a complete lineup of new and used cars for the Victorville, Hesperia, Apple Valley, Adelanto and Barstow region, and our customer care continues long after you buy or lease a Kia - thanks to our dedicated car service and auto repair team. Valley Hi Kia makes the process of securing Kia your next vehicle easy for you. Stop in and see what makes us different!

Valley Hi Kia strives to maintain a complete inventory of new 2015 and 2016 Kia vehicles. Select from all of the latest Kia models including the Soul, Forte, Sedona, Sorento, Sportage, Optima and more. We are also one of few dealerships rated to sell and maintain the brand new 2015 Kia K900. We want to make the buying experience for our customers easy and hassle free which is why we take pride in being the dealership in the Victorville, Hesperia, Apple Valley, Adelanto and Barstow area that makes this as simple as possible for you. Please feel free to stop by or contact us to take a test drive with one of our auto experts and see why the vehicles from Kia are so popular.